Whole30 Weekend Recap: Surviving Our Last Weekend
Sat, March 25th
DISCLAIMER:
If you haven't already read my disclaimer, please click the link HERE from Day 1 of our challenge. As with any lifestyle or dietary change, if you have any questions or concerns, be sure to discuss them with your physician. Also check out the Whole30 website for specifics and additional info.
PRE-BRUNCH:
It's finally the weekend and I feel about as good as this cat...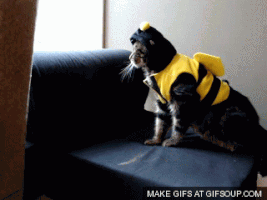 GIF compliments of GIPHY.com
Ok that may have been a bit of an exaggeration, I was just trying to find a way to use that funny cat.
So hubs and I decided we'd switch things up this week. To give you an entirely different perspective, I'm letting hubs be in charge of cooking all the meals for one day next week, photographing his creations, documenting the day, and sharing it all on the blog. Hubs will be the featured blogger on "Takeover Tuesday". Wish him luck!
BRUNCH:
I woke up craving our Whole30 Sweet Potato Pie Delight from the previous morning, so we went for round 2. After trying these the first time, we had a hunch that we'd have a hankering for a repeat, (can you tell I'm a fan of the word hankering?) so we planned ahead by making extra baked sweet potatoes and oven-roasted cinnamon-spiced pecans. Since our forecast was correct, this only took us about 2 minutes to make, thanks to our previous food prep planning. See the full recipe HERE. We enjoyed this heavenly indulgence with a hard-boiled egg and black coffee flavored with coconut milk.
TASTE TEST: Just as good as I remembered...
MID-AFTERNOON:
Did I mention I love snail mail? After checking the mail this weekend, I found this little gem. Apparently I've vented to Ginny one too many times about my attraction to repelling all things technology. I'm taking her advice and appreciate the thoughtful gift and humor! :) #everyoneneedsaGinnyintheirlife #Ginnyforthewin!
DINNER:
Since the other pink meat was still waiting for us in the fridge, we decided to combine two of our favorite recipes (oven-roasted salmon and mango salsa) and merge the two in our Whole30 Mango Salsa Salmon.
We marinated the salmon with lime juice and a little olive oil. We then seasoned the salmon with our go-to Seafood Spice Blend seasoning we found at Whole Foods.
While the salmon was baking, we made our delicious Whole30 Mango Salsa.
We served the salmon with a side of steamed broccoli.
TASTE TEST: This may be my favorite meal yet. I could seriously eat this meal at least 3x per week. We cooked the salmon for about 15 minutes and it was on point! The salsa was once again a hit... and once again, we are both guilty of eating it out of the bowl with a spoon...
Whole30 Mango Salsa Salmon
INGREDIENTS:
salmon filets

olive oil

1 lime (for juice to marinate)

Seafood Spice Blend (or favorite Whole30-approved spices)

salt and pepper to taste

"Whole30 Mango Salsa" ingredients (recipe shown below)
STEPS:
Preheat oven to 400°F.

Cover baking sheet with aluminum foil (to minimize cleanup later).

Pat salmon dry with a paper towel, and place salmon skin-side down on foil.

Squeeze lime juice over salmon to marinate. Brush salmon lightly with olive oil.

Season with Seafood Spice Blend (or your favorite Whole30 spice blend).

Bake salmon in the oven for 12-17 minutes until internal temperature of the thickest part of salmon is 145°F. (Timing depends on size and thickness of salmon, so check temperature after 12 minutes, and keep baking until thickest part reaches 145°F.)

While salmon is baking, make the mango salsa (as shown in "Whole30 Mango Salsa" recipe below).

Serve mango salsa on top of salmon. Garnish with lime slice and small tree.
Whole30 Mango Salsa
Whole30 Mango Salsa
INGREDIENTS:
3-4 mangos, peeled and diced

1/2 onion, chopped (red or vidalia onions are my favs)

1 tomato, chopped (or 6-8 grape tomatoes, chopped)

1 cup fresh cilantro, chopped (more or less depending on taste)

1 tablespoon lime juice

1/2 jalapeño, seeded and finely chopped

sea salt to taste

pepper to taste
OPTIONAL INGREDIENTS:
1/4 cup fresh pineapple

1/2 bell pepper

1/2 teaspoon cayenne pepper (for extra kick)
STEPS:
Clean and chop ingredients (or throw all ingredients into a food processor).

Combine ingredients in a bowl and stir to mix.

Serve over fish or any other way you'd prefer!
NOTES: ​
When I make salsa, I never actually measure. I think that's the great thing about salsa, you can add what you want and as much of it as you'd like, and tailor it to your liking. I did however eyeball the amounts pretty closely to give my best guesstimate, since measuring cups weren't actually involved in the making. :) You really can't go wrong though!

We used all of the ingredients shown above, including the optional ingredients, in our Whole30 Mango Salsa, and it turned out AMAZING!
Sun, March 26th
BRUNCH:
For brunch, I had a hard-boiled egg, and I hate to admit it again, but more Whole30 Sweet Potato Pie Delight... I'm still not sick of it after 3 mornings in a row, so that's a good sign I guess.
DINNER:
It is officially CHIP(HOLY) Sunday, so Chipotle it is! Salad bowl with carnitas, guac, pico de gallo, and salsa. TIP: Ask for extra lettuce to make it even more filling (at least it looks bigger).
After our epic food stylist fail, I figured I'd give these plates one more try. #chipotletrumpselksliders #youwinyoualwaysdo Ahh...brings me back to one of my favorite SNL clips... For your enlightenment...
TASTE TEST: What can I say?! Chipotle doesn't disappoint.
Click Below to Read MORE: